Mission Statement
Freedom for Veterans, Dogs with a Mission.
Support Us!
Your generous donation helps fundamentally transform the lives of our veterans, their families, and our communities. In 2020, over 97% of our expenses were directly related to our programs for veterans and service dogs.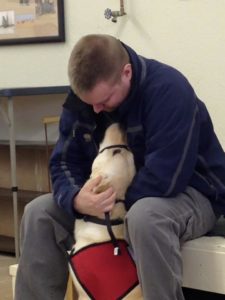 Get Involved
Support us
Support veterans by making your donation today! Believet™ respects and honors our donors and the difference they make in the world. Your support means we can grow our program to serve more veterans and provide them with the means to re-engage with their lives, loved ones, and community.

Invite us to speak
Upon request, Believet™ can bring a service dog to your business group, congregation, club, school or event to educate attendees about PTSD and other issues many veterans face as they return to civilian life.
This is a great opportunity to bring awareness to veteran issues as well as the solutions that Believet™ service dogs provide. Learn how your group can make a difference and become part of the solution. Contact us to request a speaker today.

Volunteer with us
Join our network of volunteers! We would not be able to accomplish our mission without our devoted volunteers. Believet™ volunteers make a difference and serve their community in the following ways:
Training: Learn to train a service dog in skills that will assist a veteran with their disability. Take our service dogs on field trips, including visits to the zoo, a concert, or a play. Take our service dogs on a bus, train, or airplane.
Fostering: Foster a young service dog for 4-6 months and help prepare it for a lifetime of service.
Board Service: Serve as an advisor on our Board of Directors.
And more: Volunteers also help provide assistance with accounting, legal, healthcare, veterinary care, marketing, social media, event hosting, fundraising, facility maintenance, kennel care, community awareness, facility tours, provide meals, etc.
When you volunteer, you transform lives and make the world a better place.

Events
Believet™ hosts several fundraising events each year. Volunteers also organize events to benefit our program, including 5-K runs or walks, bake sales, or special events at their place of work.
Learn more about past events to benefit Believet™:

Connect and Share
Carry our message to others—you may know someone who needs our services or who would like to support our mission. Like us on Facebook or follow us on Instagram. Sign up to receive our newsletter!