Mission Statement
Freedom for Veterans, Dogs with a Mission.
Support Us!
Your generous donation helps fundamentally transform the lives of our veterans, their families, and our communities. In 2020, over 97% of our expenses were directly related to our programs for veterans and service dogs.
Our Program
The Need
The U.S. Department of Veterans Affairs conducted a broad survey of recent veterans to gain better insight on their overall health. In raw numbers, it is estimated that a sobering 500,000 troops from the Gulf Wars alone have been diagnosed with PTSD, according to Miriam Reisman ("PTSD Treatment for Veterans: What's Working, What's New, and What's Next," U.S. National Library of Medicine, 2016).
PTSD can be described as a mental health condition that may result from experiencing or witnessing trauma. Symptoms include flashbacks, nightmares, severe anxiety, depression, and confusion. This condition—often accompanied by major depression and/or traumatic brain injury (TBI)—can make it difficult, if not impossible, to meet the normal demands of daily life. According to the Department of Veterans Affairs, 20 deployed veterans die by suicide every day in the United States (Office of Suicide Prevention, "Suicide Among Veterans and Other Americans, 2001–2014," 2016).
Our Response
Trained service dogs can provide an essential source of security, affection, and connection for our veterans. Believet™ dogs are custom-trained for mobility and psychiatric tasks. They can wake a veteran from a nightmare, ease their anxiety in a crowded public place, and provide comfort through companionship and physical contact. Our dogs also help keep veterans on a schedule because the dogs need care and attention on a regular basis.
These is a growing body of research and clinical evidence supporting the value of service dogs. Despite this, neither the Veterans Health Administration nor most private insurers pay for or provide reimbursement for psychiatric service dogs for people diagnosed with PTSD.
Believet™ provides highly trained service dogs, free of charge, to disabled veterans, helping them to lead more productive, independent lives. A service dog provides a sense of security, greater independence, non-judgmental acceptance, affection, physical assistance, and peace of mind.
Our Dogs
Believet™ service dogs transform the lives of veterans and their families. The dogs come from shelters, rescue groups, and generous individuals. The training process for the service dogs is as follows:
Over the course of 18 months, Believet™ cares for and trains our service dogs to become ADA-approved and certified. During this time the dogs live with a foster family.
Believet™ matches a veteran with a service dog and provides additional training tailored to the veteran's individual needs. Together, the veteran and service dog participate in 120 hours of training, including public access training and testing. Believet™ provides all equipment free of charge.
Graduation! Once training is complete, the dog and veteran graduate. The Believet™ service dog goes to live with the veteran.
Dog Spotlight: Meet Hero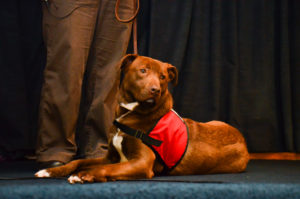 Heroes come in all shapes and sizes. Hero came to us from the Mankato Animal Shelter and quickly became a favorite with his hard working, easy going attitude, and majestic Clydesdale prance. He was the first Believet™ dog to attend a Twins game. We soon started saying, "If we had 100 Heroes, this would be easy." Hero has since graduated and gone to live and work with his veteran.
Our Facility
Believet™'s training facility is located on 12 acres just 3 miles outside of Northfield, Minnesota, (45 minutes south of Minneapolis). Our facility is heated and air-conditioned, and includes indoor and outdoor training spaces, and fenced outdoor airing yards. We can accommodate a maximum of 25 dogs at capacity.