Mission Statement
Freedom for Veterans, Dogs with a Mission.
Support Us!
Your generous donation helps fundamentally transform the lives of our veterans, their families, and our communities.
Our Program
Our Vision
To empower the brave veterans who served and sacrificed for our country, our goal is to help them return to civilian life with dignity and independence.
Believet™ service dogs provide veterans a new lease on life. They offer a path for veterans to grow and hope for a better future. Changing the world can happen anywhere and anyone can do it. But we can't change the world alone. It takes friends, family, colleagues, the good will of strangers, and helpful guidance. If I have learned anything, it is the power of hope. In serving their country, veterans changed the world for the better. We can honor them by helping to change their world for the better, providing assistance and giving them hope.
The Need
The long-term effects of traumatic experiences during service can severely inhibit a veteran's ability to lead a full, independent life. PTSD, depression, and TBI can have far-reaching consequences for veterans and their families. In fact, the V.A. indicates that over 20 veterans die by suicide every day in the United States. Believet's dogs are custom-trained to perform tasks that result in lowered stress, depression, anxiety and social isolation. This gives the veterans hope and allows them to more successfully navigate daily life.
Our Action
Believet™ provides highly trained service dogs, free of charge, to disabled veterans, helping them to lead more productive, independent lives. Trained service dogs can provide an essential source of security, affection, and connection for our veterans. Believet's dogs are specially-trained to perform mobility and psychiatric tasks. They can wake a veteran from a nightmare, ease their anxiety in a crowded public place, and provide comfort through companionship and physical contact. Our dogs also help keep veterans on a schedule because the dogs need care and attention on a regular basis. A service dog provides a sense of security, greater independence, non-judgmental acceptance, affection, physical assistance, and peace of mind.
Our Dogs
Where they come from:
Believet™ uses dogs that were bred for the purpose of service work as well as dogs from shelters and rescues.
Our Training:

Our puppies live with foster families for 5-8 months until they are ready for training on-site at Believet's training facility. During this time, the puppies learn basic obedience and experience life in a home environment. Our dogs then extensively train at Believet's facility for 12-18 months. During this time, they learn service skills and receive additional obedience training. We use positive reinforcement methods to teach new skills and make the transition from trainer to veteran seamless. We train at our facility, restaurants, shopping centers, colleges, on buses, trams, airports, and even take a plane ride. On the weekends, our dogs relax at foster homes where they get to be a dog and learn how to be a good citizen in a family environment.
When the dog is paired with their veteran, the team trains together with guidance from our professional trainers for at least 120 hours. During that time, the dog learns custom service skills unique to that veteran.
Once the team passes their Public Access Test at the end of their 120 hours of training, they have successfully completed our program.
Dog Spotlight: Meet Hero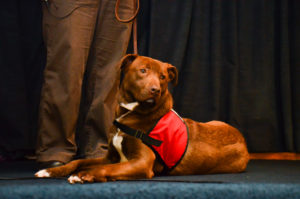 Heroes come in all shapes and sizes. Hero came to us from the Mankato Animal Shelter and quickly became a favorite with his hard working, easy going attitude, and majestic Clydesdale prance. He was the first Believet™ dog to attend a Twins game. We soon started saying, "If we had 100 Heroes, this would be easy." Hero has since graduated and gone to live and work with his veteran.
Our Facility
Believet™'s training facility is located on 12 acres just 3 miles outside of Northfield, Minnesota, (45 minutes south of Minneapolis). Our facility is heated and air-conditioned, and includes indoor and outdoor training spaces, and fenced outdoor airing yards. We can accommodate a maximum of 25 dogs at capacity.
I don't like going shopping during the day, because there's people… [Claire] gives me an extra set of eyes.
An Extra Set of Eyes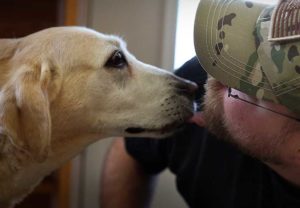 As a U.S. Army veteran who served in Iraq, Kristian Gaasland suffers from acute anxiety and chronic migraines, making it difficult to be in crowded places. Even an ordinary visit to the grocery store can trigger panic.
Believet™ founder Sam Daly worked together with Kristian and Claire, an energetic yellow lab who gives Kristian the feeling of security that he needs to carry out essential errands.
I can't tell you how long I've looked for an organization like this.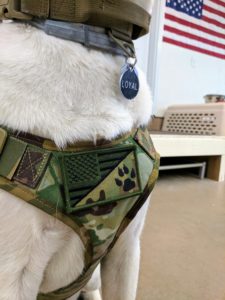 A Real Need
The veterans we serve come from the most emotionally and physically extreme environments imaginable. The survival instincts that served them well in combat often remain with them; when they come home, they may miss the sense of connection with their brothers and sisters in arms.
Believet™ service dogs provides an essential source of security, affection and connection for veterans.