Mission Statement
Freedom for Veterans, Dogs with a Mission.
Support Us!
Your generous donation helps fundamentally transform the lives of our veterans, their families, and our communities.In 2020, over 97% of our expenses were directly related to our programs for veterans and service dogs.
I don't like going shopping during the day, because there's people… [Claire] gives me an extra set of eyes.
An Extra Set of Eyes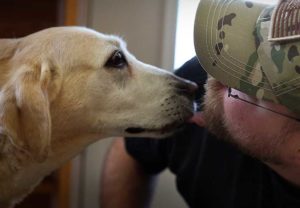 As a U.S. Army veteran who served in Iraq, Kristian Gaasland suffers from acute anxiety and chronic migraines, making it difficult to be in crowded places. Even an ordinary visit to the grocery store can trigger panic.
Believet™ founder Sam Daly worked together with Kristian and Claire, an energetic yellow lab who gives Kristian the feeling of security that he needs to carry out essential errands.
I can't tell you how long I've looked for an organization like this.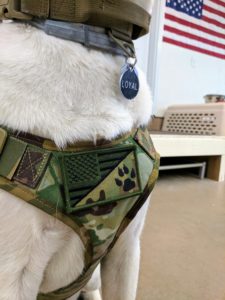 A Real Need
The veterans we serve come from the most emotionally and physically extreme environments imaginable. The survival instincts that served them well in combat often remain with them; when they come home, they may miss the sense of connection with their brothers and sisters in arms.
Believet™ service dogs provides an essential source of security, affection and connection for veterans.